Im/mediations: 9x9x9 is a durational performance/installation involving nine performers, each captured using a nine-camera surveillance system, and rematerialized via projection mapping onto nine unique surfaces.
Presently, we are in the early stages of development – supported by a Process Grant of the Fonds Darstellende Künste with funds from the Federal Government Commissioner for Culture and the Media.
The premiere of the video installation will be announced in 2024!
---
OPEN STUDIO – DECEMBER 8, 2022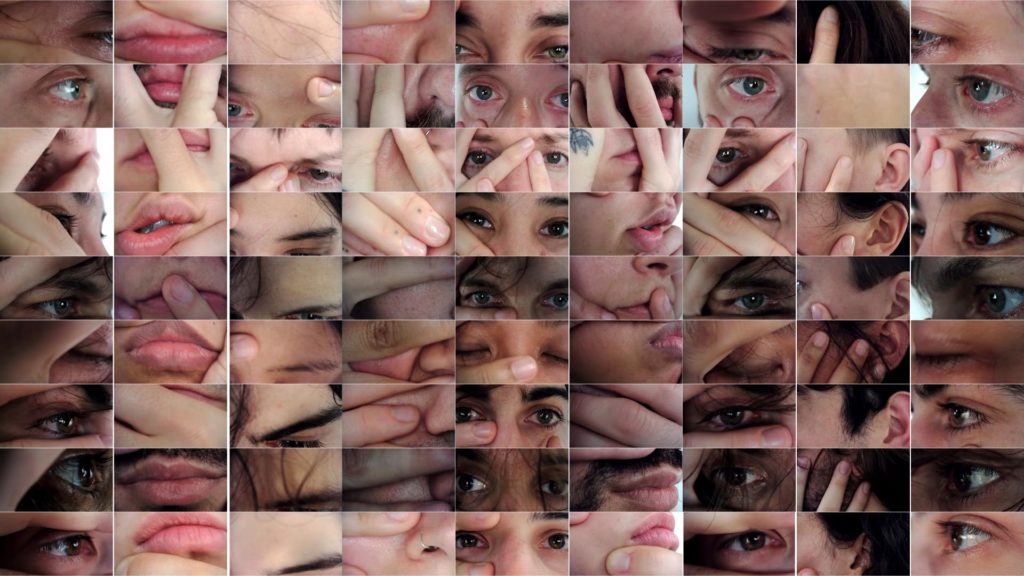 Join us on December 8, 2022 between 16:00 – 20:00 CET for an Open Studio event, in which we will share an initial mockup of the video installation for Im/mediations: 9x9x9. This event is by invite, but everyone is welcome to join. For details, please email: immediations@gmail.com
PROCESS NOTE:
Since the nine livestreams (see below), we have been editing the 81 full HD videos — 9 from each performer — to begin imagining their collective potential. The first major task was to align all 81 videos in time. We were able to do this, because the choreography of gestures and even the breathing of each soloist was guided by a set click-track (like a metronome, with cues). As the 81 ninety-minute videos play in sync, after long intervals of "stillness" filled with micro-movement, the 81 frames shift together, creating a sort of cacophonous synchrony we're fascinated with!
As we will share in the Open Studio, we have also been playing with live editing in a software called Isadora, so we can compose alignments and overlays between multiple videos, and rescale and redistribute the videos in space using projection mapping.
---
9 LIVESTREAMS – NOVEMBER 1-17, 2022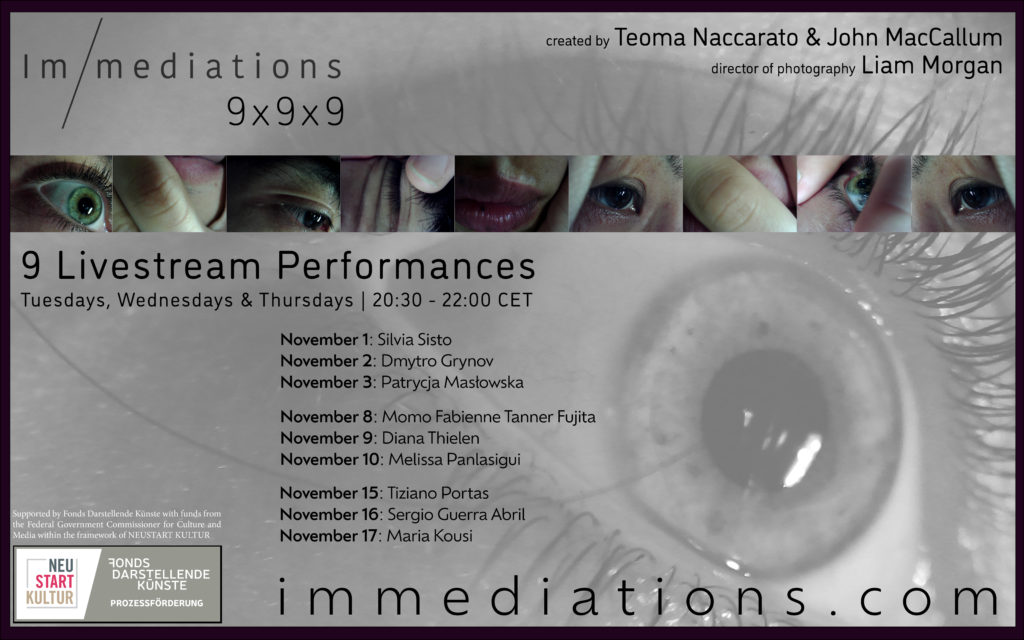 Join us for 9 livestream performances – featuring 9 soloists – fragmented and reconfigured in closeup from 9 unique perspectives. Each livestream is a kinetic portrait – a 90-minute exposure, in which movement pushes at the seams of stillness. Arrive and depart anytime throughout each livestream: https://immediations.com/9x9x9
PROCESS NOTE:
With these livestreams, we invite you behind the scenes, into the early stages of our creative process in generating video footage for a video installation to be developed in 2024. Over the course of 9 livestreams, we will generate 81 full HD videos – all synchronized using a metronome, and mapped onto multiple surfaces to create discontinuous, hybrid bodies.
---
Supported by Fonds Darstellende Künste with funds from the Federal Government Commissioner for Culture and the Media.